Living is Now - Release Show, May 28th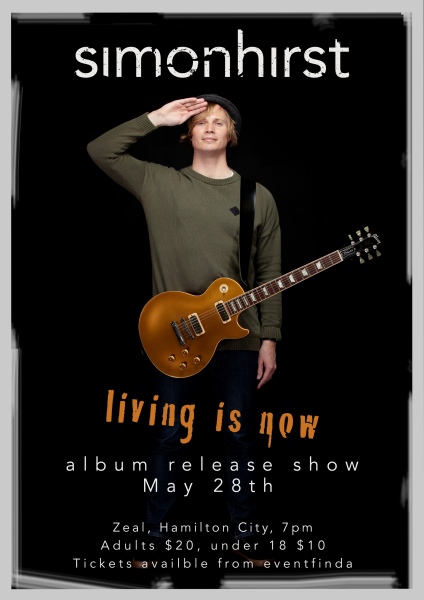 Live concert to celebrate the release of Simon Hirst's sophomore album 'Living is Now'.

2021 saw the first lead singles from the upcoming album, 'No Turning Back' and 'Incomplete', gain radio rotation. That continued into 2022, and has seen his streaming numbers, and online following start to grow.

The album release, having been pushed back three times due to the pandemic, is finally locked in for May 21st. Followed a week later by this release show on May 28th, which will be the epic culmination of a band who have had precious little opportunity to play shows in the last two years and will be firing on all cylinders in their home city.

Adults: $20.00
18 & under: $10.00

Tickets available here: https://linktr.ee/simonhirst

Doors open at 7.00pm
First act starts 7.30pm
Simon Hirst at 8:30pm

"Hot off the press - get amongst this epic tune that was just released in the weekend from Hamilton-based legend, Simon Hirst, who has come back full throttle with his honest and functional single, 6:18 (Remember Your Name) which is an absolute bop to bring in the warmer weather with" - Welcome to the Gig

"So, what do I personally think of the track? Well, first of all, it reels in brilliance and truth with the way it all comes together - it seems that the lyrics and the music are meant to connect in the right way and Hirst has certainly achieved that form of excellent combination right from the get go." - Welcome to the Gig review of 2021's single, 'Incomplete'.
Back...